10 Questions to Ask Every Company During the Estimating Process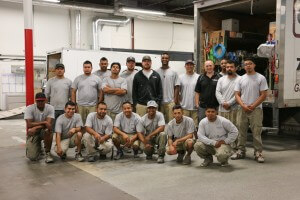 Best Warranty in the business : Lifetime Guarantee against peeling
Largest residential floor coating company in the Midwest
Best products in the business – custom manufactured and specifically formulated for Minnesota
Installers are experienced and trained GFC employees
25+ years' experience in the industry
Governor's Award of Excellence winner
What Makes Us Different?
Product
Our products are formulated specifically for Minnesota climates, taking into consideration the harsh temperatures and moist conditions that affect concrete. Competitor products, which includes a variety of epoxy coatings in Minneapolis, cannot offer the same.
Warranty
We are the only company that offers a lifetime warranty against peeling. We also guarantee that our product is chemically resistant and UV protected. While most companies only offer a one or two year warranty, we know and believe in our coating enough to warranty our work for a lifetime.
Customer Service / Attention to Detail
We value great customer service and take extreme pride in our work. We provide the best in customer service from start to finish. Your project becomes very personal to us, and we strive to pay close attention to every detail. It is our goal that you will love your new floor. We are proud of our work and rest our reputation on your satisfaction.
Polyhybrid vs. Polyurea or Polyaspartic
Bonding Power
Our polyhybrid is designed to penetrate into the concrete and bond to the concrete at a molecular level. Polyurea/Polyaspartic dries rapidly and is not allowed the time required to bond to the concrete creating future issues with hot tire, lifting, peeling and cracking.
Flexibility
Our polyhybrid is designed to be extremely flexible allowing it to expand and contract along with our changing concrete conditions in our region. Polyurea/Polyaspartic dries hard and becomes stiff not allowing it to move with the concrete forcing the flooring to eventually crack and peel.
Strength & Durability
Our polyhybrid is designed to be extremely durable and able to withstand harsh use. Because Polyurea and Polyaspartic are fast drying products, it tends to become very brittle and can chip and peel easily.
Clear Coat System
It is both chemically resistant and UV protected. In addition, it is as flexible as epoxy and as durable as polyurethane without turning yellow over time. Our clear coat is the perfect top coat for any garage floor.
Compare Us vs. The Competition
We have made it our policy to never disrespect another company. Keeping that in mind, we also know that we provide a superior product and excellent customer service and want to make you aware of why we stand out among competitors that provide epoxy floors in Minneapolis. Whomever you choose to do your floor, we offer you best wishes and years of satisfaction. However, we hope you choose to become a member of the Garage Floor Family.
Concrete Repair
Repouring concrete can be an expensive and extensive remedy for your concrete damage. As part of our process, we repair damaged areas in the concrete to improve the look of your floor as well as strengthen and rebuild the damaged concrete. We will address any pitting, scaling or cracks that have developed in your concrete over the years due to salt & chemical exposure as well as movement of your concrete due to expansion and contraction.
Is It Epoxy?
Our product is a three-component polymer and has flexibility that is superior to alternative epoxy floor finishes in Minneapolis. Unlike epoxy coatings which cure on the surface, our coating bonds into the concrete at a molecular level. Because our coating bonds at a molecular level, it will not lift and peel like traditional epoxy coatings. Our coating has the flexibility like epoxy but the durability to last and withstand the wear and tear that a traditional garage floor will experience.