5 Ways Concrete Floors Will Change Your Life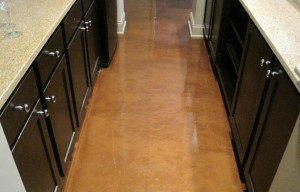 While concrete may not be the first residential flooring that comes to mind, concrete does deserve some of your attention the next time you are considering replacing or building your home's floor. Choosing concrete instead of hardwood, laminate, or tile may actually change your life. Here's how:
Concrete is ridiculously durable. Fire, water, and stains don't stand a chance against concrete. If you are worried about potential cracking, a quality coating or sealant can ease your flooring anxieties. Keep in mind that tiles, hardwoods, and laminates can also crack and fragment. You can also incorporate the cracks into the floors design for a rustic or aged look.
Concrete can be customized. Paints, stencils, dye, and color treatments allow you to design your floor to match any room. If you feel strongly about having a wood floor but don't want to deal with the extra maintenance, you can treat and finish your concrete floor to look like wood planks.
Concrete is easy to clean and maintain. Daily care would include sweeping and mopping, just like other hardwood floors. A high quality sealant or wax will keep your floor looking new for years, too. Again, concrete doesn't have to look sterile or cold, a simple decorative finish will not compromise the integrity of your floor and will still be easy to maintain
Concrete is pet-friendly, able to resist nail scratches, training accidents, spilled water, super-shedding cats, and doesn't absorb odors. If you are worried about the floor being too cold or harsh for your pet, provide a soft bed, mat, or area rug for your furry family members.
Concrete is eco-friendly. Not only does it not it require little energy to make, but also concrete is made locally – wherever you live. Concrete also is a perfect flooring option if you have radiant heat because concrete absorbs heat. In the summer, concrete absorbs cold air to help cool your home. Energy savings are part of the package when you have concrete floors.
Are you ready to make the change? Contact us today and see how we can transform the way you see your home's floors.