The Art of Coating – More Than Basic Colors
Garage floor coating can seem very technical in nature – the setup involving multiple coats over a concrete slab. It's a detailed process with the purpose of achieving an overall aesthetically pleasing effect, all while delivering flooring that holds up well for the long haul no matter what kinds of conditions the surface experiences. Just like any design element, however, it's important to select the right coloring that not only looks great with other area furnishings, but one that fits your unique personal style. Garage flooring has the ability to go well beyond what other flooring types deliver aesthetically. More specifically, garage flooring delivers a visual appeal that places an emphasis on mixing colors and highlighting texture – bringing your area to life in a way you previously may not have thought possible.
At Garage Floor Coating, we offer many color options, ensuring that you find one that you'll be satisfied with for the long-term, whether you're looking to revamp a garage floor, a recreationally-focused area or around the swimming pool/patio. Below we highlight some of the flooring types we offer – each featuring its own unique aesthetic appeal that goes well beyond your basic color options: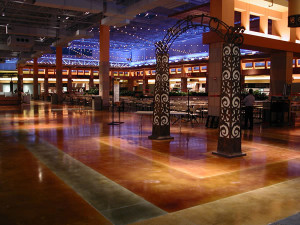 Liquid Art
Installing liquid art for flooring is a 4-step process that includes adding two metallic coats over the concrete surface, in addition to other coatings. Liquid art may be best described as having a "cloudy" texture. Surface colors for this system include options such as Butterscotch, Galaxy Blue, Autumn Blaze, Khaki, Quicksilver and many others.
Sports Designs
Installing sports designs for flooring is a 5-step process that features a full spread of our UV protected vinyl chip with multiple coat types over the concrete slab. Design options in this category highlight the colors of popular sports teams, both college and professional whether it's the Minnesota Vikings, Green Bay Packers, Chicago Bears or the Ohio State Buckeyes.
Quartz
Installing a quartz flooring system is a 5-step process that highlights a full spread of stone quartz, in addition to clear coats and primer coats. Quartz includes an aesthetic that could be described as "peppered" or "sandy" – overall delivering a visual flare that looks natural and may go well with other outdoor settings such as pools and patios.
Liquid Stone
Installing liquid stone is a 5-step process that includes a full spread of UV Protected Vinyl Chip and Stone Chip, in addition to other coatings – resulting in a visual aesthetic that infuses multiple colors that are evenly distributed throughout. Just some of the color options in this category include Dark Rum, Patron, Stardust, Graphite, Copper Mine and Desert Twilight.