Removing Old Flooring to Utilize What's Underneath
Whether you've just acquired a new property with flooring that's in need of an update, or you've simply noticed your property's flooring has attained a lot of wear and tear over the years, you'll likely want to renovate at some point. But believe it or not, replacing your current flooring with something similar to what was there before might not be the best route.
A lot of homes and buildings, especially those constructed within the last couple decades, actually feature concrete slabs at the base of their current floors. By removing your property's old flooring, whether it be carpet or wood, you can find and utilize the concrete base below during the renovation.
Of course when you first uncover the concrete slab, it'll likely look rugged and perhaps not so eye-catching. However, by adding a coating system to the surface, you can create a look that's impressive. So what benefits does going this direction offer?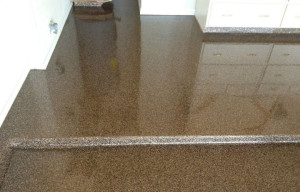 You'll likely save money
Adding new flooring can be expensive. Instead of requiring new materials, coating a concrete surface that's below the existing floor relies on layers of polyurethane – something than can be less expensive compared to more traditional options like carpet and wood.
You'll be able to implement a modern design
Concrete flooring provides an aesthetic that's both clean and modern. However, if you want to make the area look busier in a way that extends a bit more beyond minimalism, you can add rugs  – something that looks great atop concrete flooring.
You can select from multiple coating options
Going without wood or carpet flooring doesn't mean you have to stick with a simple concrete look. Multiple color options are available – whether it be in categories such as liquid art, quartz or liquid stone – all great design options we offer at Garage Floor Coating.