What to Put in Your Man Cave

Coating your garage floor sets the stage for the finer things in life, like cars, tools, sports and beer. Okay, so only certain people will fully appreciate the stereotypical "manly" garage. The thing to remember is that a man cave can include anything a person is passionate about. Even women can create a "woman cave" if they really want their own home escape! Our stunning garage floors inspire many of our customers to turn their garage into something more. A few items can make a big difference:
Entertainment
Set yourself up for game day with a wall-mounted flat screen television. Prices have dropped in recent years, so it's easier than ever to find a great deal. As far as seating goes, you can either take the standing-room-only approach or look for comfortable chairs or sofas. Obviously, space will be a huge factor in this decision. For an enormous garage, consider including a Ping-Pong or foosball table. Your guests will never be bored. Top it off with a surround sound system. You'll feel like you have a front row seat right in your own garage.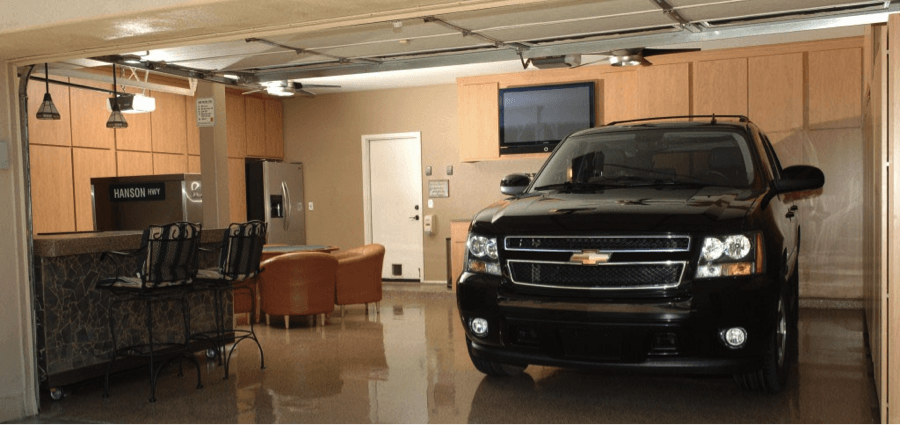 Food and Beverages
A mini fridge will suffice, but deep down you probably want the real deal. That way, you can stock up the fridge with any food your appetite could possibly demand. Remember to get a microwave for those times you need something heated up fast. Really want to go all out? Consider building a full bar! Beer draughts make for zero beer droughts. With this kind of setup, you may never need to go back into your home again.
Sports Memorabilia
You love your team. Why not show it off? Everything from signed equipment to huge foam fingers will do. Deck your walls with framed, signed jerseys and posters to give the garage a personal touch. You may not even need to spend money to show off your fandom. Look through old boxes you have lying around in storage. You might find a piece of memorabilia you forgot about. Even your floor can add to the mix – Check out our customized sports designs for colors that represent your favorite team.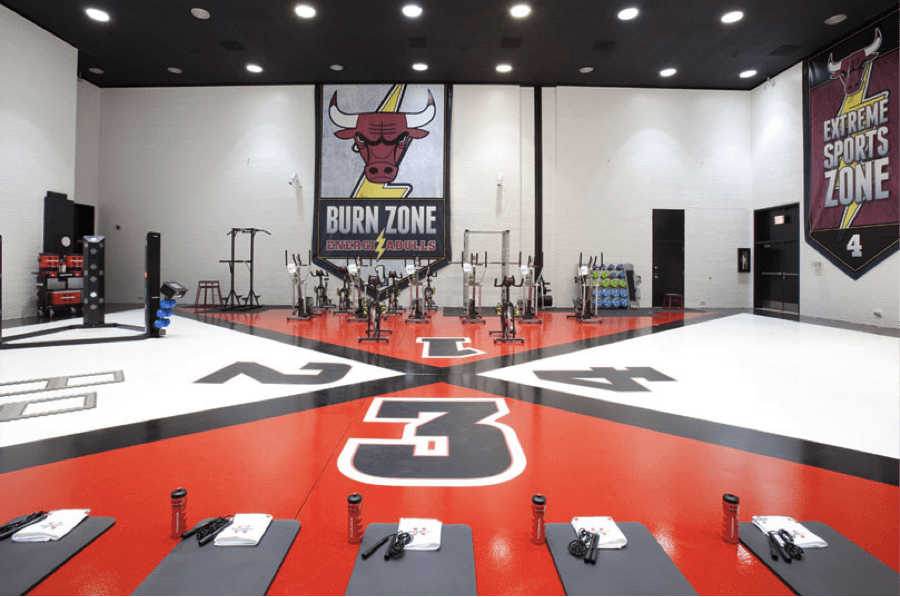 You don't need to be a teenager to jam out in the garage. Whether you rock the drums, guitar, bass or another instrument, your garage can be the perfect place to lose yourself in your music. For real solitude, you can attach sound absorption sheets to your walls. That way, the rest of your family won't have to hear that killer solo for the hundredth time. Your man cave should be a place to express yourself without fear of judgment. Set yourself up for hours of musical bliss.
There's never been a better time to build a man cave. We're offering a limited-time Man Cave Markdown so you can save on storage while building your home escape. You'll have more money in your pocket to buy something cool for your garage. Start your project before football season ends!