How to Customize Your Concrete to Match Your Decor

So, you love the idea of having concrete flooring that is low maintenance, eco-friendly, and incredibly durable. What might be holding you back is the aesthetics. While most people conjure images of cold, industrial, grey concrete, we see something entirely different: polished, stamped, decorative concrete. In the past, we've told you how customizable concrete is. Today, we'll show you how to customize your concrete to fit your home's decor. You don't have to work against concrete, instead, you can make the concrete work for you.
Classic
While you may not think you can achieve a classic aesthetic with concrete floors, you definitely can. Pick a finish that resembles marble or quartz. You could either create a seamless look across the entire floor, or you could stamp the concrete to make it resemble tiles. Depending on the color or vein pattern you like, Travertine, Calcutta, and Carrara marbles all give different, but elegant, finishes to your concrete floor. Polishing your concrete will give the floor the natural gloss that these materials usually have.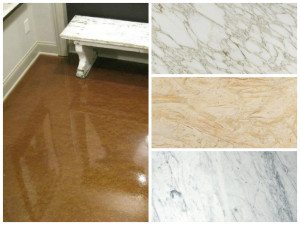 Rustic
To achieve a rustic look, you will want to look to the natural world for inspiration. Earth tones are recommended to solidify the rustic ambiance in your home. If you want the look of a hardwood floor, concrete can be stamped and stained to mimic wood planks, right down to the wood grain texture and natural color variation. If you want more of a rustic stone look, you can stamp and stain the concrete to emulate slate stones. Slate is a great option if you already wood items featured in your decor.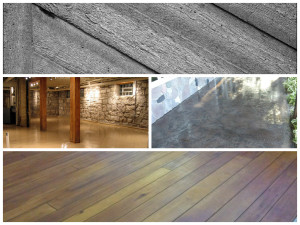 Modern
If you want your floor to have a more modern look, you will want to stay away from tile stamps and focus your search towards texturing options and clear coat finishes. While most modern finishes are fairly neutral, you can use this opportunity to add a pop of color to your space. Muted red, green, and blue tones are worth exploring, and you can choose a matte or glossy finish.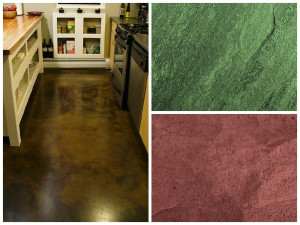 A couple other elements to keep in mind when choosing your custom finish is texture and color scheme. Blending textures is a great way to add depth to your room, but make sure your textures work together and follow your desired theme. As far as choosing colors that work well together or complement each other, the design-seeds website is full of color palettes and thematic color schemes.